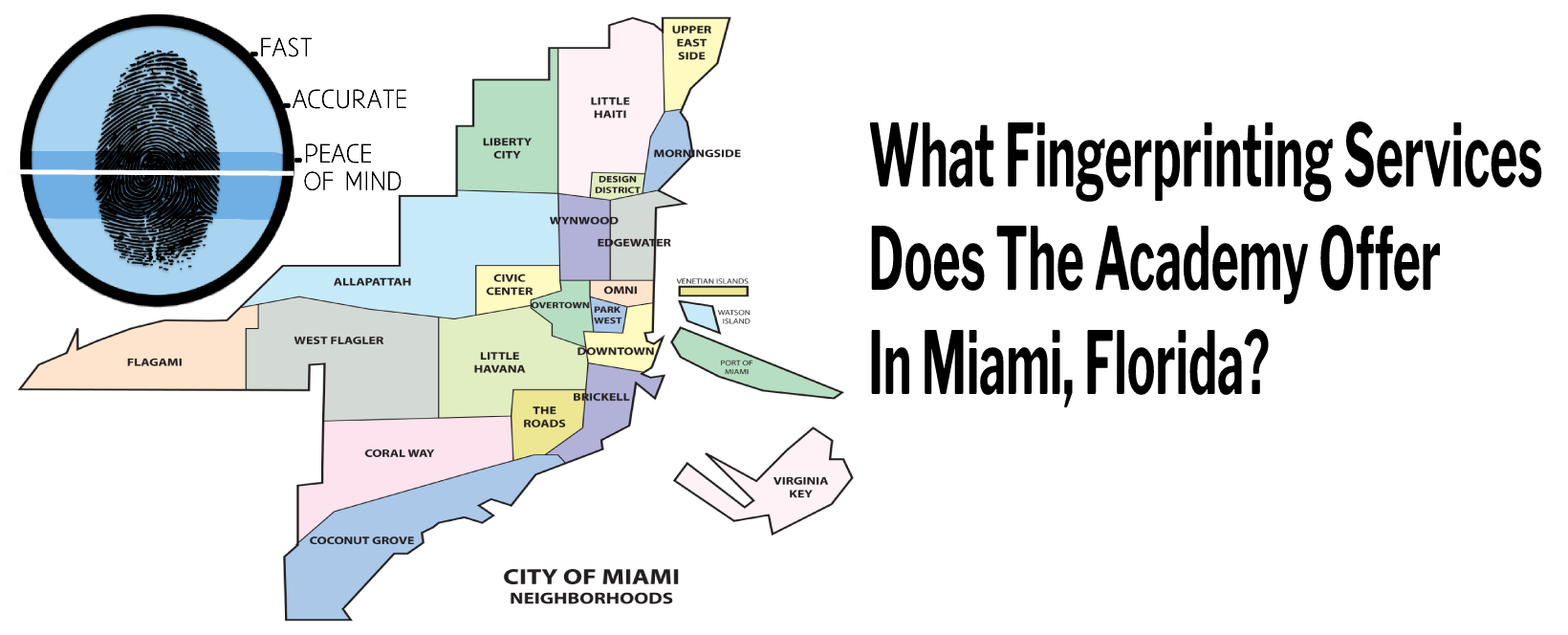 The Academy is a FlorWhatida based fingerprinting and background check company that was originally established in 2003 by a certified trainer. The Academy has become a leader in the identity management industry and have built our reputation by providing our clients with fast, reliable, and high-quality service.
We've been recognized and trusted by thousands of clients who are fingerprinted annually. Our success as a service provider led to our partnership with the PrintScan Live Scan system.  The Academy offers fingerprinting services in Coral Gables, Kendall, Shorecrest, Little River, Belle Meade, Liberty City, Lemon City, Bayside, Buena Vista, Morningside, Bay Point, Design District, Allapattah, Wynwood, Midtown, Edgewater, Grapeland Heights, Civic Center, Overtown, Omni, Park West, Spring Garden, Lummus Park, Downtown, Port Miami, Riverside, Little Havana, West Flagler, Flagami, Brickell, The Roads, Shenandoah, Coral Gate, Coral Way, Silver Bluff, Coconut Grove, Port Miami, Brickell Key, Watson Island, Vietnam Islands, and Virginia Key.
The Academy  fingerprinting services include ink fingerprinting, live scan fingerprinting, on-site fingerprinting, fingerprint archiving, and more.
Which Miami Fingerprinting Service Do You Need?
The Academy is certified to conduct fingerprinting services in all areas of Miami.  Locate the service you need and book an appointment.   
INK FINGERPRINTING

Ink Fingerprinting is the traditional method of collecting fingerprints with the ink and roll method.

LIVE SCAN FINGERPRINTING

Live Scan is the process of capturing fingerprints electronically for submission to specific agencies, archiving, or fingerprint card printing.

FBI BACKGROUND CHECKS

The Academy utilizing PrintScan is authorized to transmit electronic fingerprint submissions directly to the FBI through

an authorized FBI Channeler.

ON-SITE FINGERPRINTING

Our professional fingerprinting technicians come to your location to provide all of our services for your convenience!

FINGERPRINT ARCHIVING

PrintScan's software is capable of capturing digital fingerprints and storing them in our secure server for future submissions or card printing.
Need To Make A Mobile Fingerprinting Appointment?
The Academy's  Miami Mobile fingerprinting is available 24/7, to come to you! At your home or company. Personal attention at competitive prices.
PrintScan Miami Mobile offers many of the fingerprinting related services that are available at the New York City office, such as:
FDLE Submissions

FBI Channeling

FINRA transmissions

Fingerprint Archiving Service

Background Screening

Apostille Services
Se habla Español 
Level 2 Background Check in Miami Price List:

A.H.C.A.(Agency for Health Care Administration). Photo included.

$90.00

Medicaid, Board of Nursing, Board of Pharmacy(NCLEX & CNA). Photo included.

$90.00

Name Change (Clerk of Courts)

$70.00

Guardianship

$70.00

D.B.P.R. (Dept. of Business & Professional Regulation)

$70.00

V.E.C.H.S. Employees

$70.00

V.E.C.H.S. Volunteers

$65.00

D.O.E.A.(Dept. of Elder Affairs)

$60.00

DCF/APD (Level 2 Criminal History + Photo Included)

$90.00

CHAPTER 493 Licenses (Dept. of Agriculture)

$60.00
*NEW CARD SCANNING SERVICE  *
"If you are outside Florida", we are now able to scan your cards and submit your prints electronically to FDLE for your level 2 background check. Cost is $70.00-$90.00, depending on your field of work. Please call for mailing instructions and payment methods.
WE PRINT YOUR FINGERPRINTS ON AN FBI APPROVED
FD-258 FINGERPRINTING APPLICANT CARD.
FINGERPRINTS PRINTED ON A CARD $50.00
 Check the Status of your Fingerprints here.
*YOU ARE REQUIRED TO BRING TO YOUR LIVE SCAN FINGERPRINTING APPOINTMENT :
PICTURE ID: Drivers License, FL ID card, Passport, Resident Card. Expired IDs will NOT be accepted.
ORI Number = Originating Agency Identifier (Usually provided by entity or employer requesting the Fingerprinting).
Walk-ins are welcome, however, we strongly recommend making an appointment for better service. 
HOURS OF OPERATION:
Monday – Friday 9:00AM – 5:00PM
AFTER HOURS, EMERGENCY,  AND WEEKEND SERVICES: Call for a quote.
Office Location:
3721 NW 7th Street Suite 3721-1  Miami, FL 33126 ( Located next to the DMV)
Contact Us:
Phone: 305-648-2000
Email: Services@academyfl.com
*We are an authorized service provider & certified by the FBI & FDLE to provide Live Scan Fingerprints and Level 2 Background Check Service in Miami Dade, Florida.