A Certified Ethical Hacker is a skilled professional who understands and knows how to look for weaknesses and vulnerabilities in target systems and uses the same knowledge and tools as a malicious hacker, but in a lawful and legitimate manner to assess the security posture of a target system(s). The CEH credential certifies individuals in the specific network security discipline of Ethical Hacking from a vendor-neutral perspective.
A Certified Ethical Hacker (CEH) is a qualification to see if one has the knowledge to be to able analyze the security of computer systems and see if there are any weaknesses or vulnerabilities that can be targeted. You use the same knowledge as a hostile hacker but in a legal and ethical way. 
How much does training cost for EC Council CEH Certification?
The Certified Ethical Hacker program is the most desired information security training program any information security professional will ever want to be in. To master the hacking technologies, you will need to become one, but an ethical one! The accredited course provides the advanced hacking tools and techniques used by hackers and information security professionals alike to break into an organization. As we put it, "To beat a hacker, you need to think like a hacker". A course of Certified Ethical Hacking can go for $2500.00 to 3995.00 depending on materials. 
For a complete listing of the Cyber-security training classes The Code Academy offers please review this table:  
What type of jobs can you get with the EC Council CEH Certification?
CEH certified professionals may qualify for jobs including: 
Network Security Jobs

 

Penetration Tester

 

IT Auditor Positions

 

Security Engineer

 

Homeland Security Jobs
What type of salary can you get with EC Council CEH Certification?
The Certified Ethical Hacking certification will significantly benefit security officers, auditors, security professionals, site administrators, and anyone who is concerned about the integrity of the network infrastructure.The salary for a Certified Ethical Hacker (CEH) is approximately $90,000 a year. 
Where can you find training for EC Council CEH Certification?

 
You can find training for Certified Ethical Hacking at The Code Academy, Computer Centers. 

What are popular books for EC Council CEH Certification
We recommend always to purchase the authorized EC Council course ware from an Approved Training Provider. This course ware CEHv10 e-Courseware can be purchased by contacting  info@academyfl.com
If you are looking for additional supplemental resources to help you prepare for the CEH certification. You can find the following CEH Books at amazon.
CEH Certified Ethical Hacker All-in-One Exam Guide by Matt Walker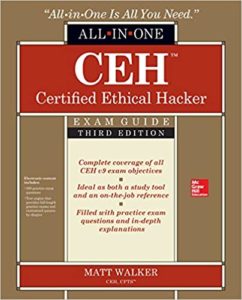 CEH Certified Ethical Hacker Study Guide – Kimberly Graves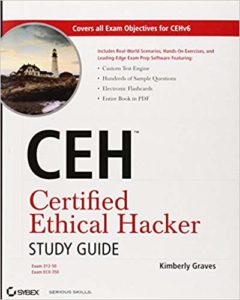 Where can you find a study 

guide

 for EC Council CEH Certification?
You can find a study guide for EC Council CEH Certification at https://www.leaderquestonline.com/blog/certified-ethical-hacker-exam/
What are sample questions for EC Council CEH Certification on the exam?

 
Here are the types of questions of what you can expect to be  on the CEH exam 
Which of the following opens the Computer Management MMC in a Windows command line?
a)compmgmt.mmc
b)compmgmt.msc
c) compmgmt.exe
d)computermgmt.exe
If a rootkit is discovered on the system, which of the following is the best alternative for recovery?
a)Replacing all data files from a good backup
b)Installing Tripwire
c)Reloading the entire system from known-good media
d)Deleting all data files and reboot
How much does the EC Council CEH Certification exam cost?
The Certified Ethical Hacker exam costs $600 to take it but, for students that take the course by themselves  in the comfort of their own home, must pay an additional $100 eligibility application fee and submit a record of two years of information security related work experience that is endorsed by your employer.